If you are inquiring about Shipping or Transporting to our Warehouse for an Alternative Pickup, please ALWAYS email shipping@neoauctions.com.
Phone calls and text messages about this will likely receive a delayed response.
We are trying to keep these requests in one area, to increase our efficiency in responding to everyone in an appropriate amount of time.
We receive every communication that is sent to us.
We will process all requests within 5-7 days. More immediate requests will be responded to sooner.
Thank you for your cooperation.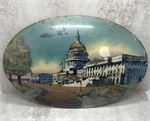 This Part 1 of a two-part Estate Auction. This auction includes: High Quality Electronics (1970s Pioneer, Leslie 925 3-Channel Speakers, Univox, Rotel, TEAC), Mid-Century Furniture (Hollywood Regency Couches, Hitchcock Stencil Bench, Pennsylvania House), Original Oil Paintings, United States Coins of the 20th Century, Lots of Porcelain Collectibles, Decoratives, Avon Collectibles, Vintage Benrus Watches, Fenton Glass, Imperial Glass, Unique Lamps, Lots of Metal and Wood Decoratives, Mid-Century Kitchen Items, and Much More!
Bidding Open
Accepting Final Bids
Bidding Closed
Starts Closing In:
Closing
Ended