If you are inquiring about Shipping or Transporting to our Warehouse for an Alternative Pickup, please ALWAYS email shipping@neoauctions.com.
Phone calls and text messages about this will likely receive a delayed response.
We are trying to keep these requests in one area, to increase our efficiency in responding to everyone in an appropriate amount of time.
We receive every communication that is sent to us.
We will process all requests within 5-7 days. More immediate requests will be responded to sooner.
Thank you for your cooperation.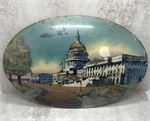 This Part 1 of a two-part Estate Auction. This auction includes: High Quality Electronics (1970s Pioneer, Leslie 925 3-Channel Speakers, Univox, Rotel, TEAC), Mid-Century Furniture (Hollywood Regency Couches, Hitchcock Stencil Bench, Pennsylvania House), Original Oil Paintings, United States Coins of the 20th Century, Lots of Porcelain Collectibles, Decoratives, Avon Collectibles, Vintage Benrus Watches, Fenton Glass, Imperial Glass, Unique Lamps, Lots of Metal and Wood Decoratives, Mid-Century Kitchen Items, and Much More!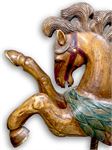 This larger online auction features over 300 lots from a great estate with great taste! Items included in this auction: Carousel Horses (Real Early 1900s Carved Wood Carousel Horse, Melissa Laurence Mahogany Carousel Horse, Tobin Fraley), Furniture (Several Quality Antique Furniture Pieces, Ashley Signature Dining Room Table and Hutch, Howard Miller Display Cabinet), Over 80 Pieces of Fine Art (Original Artwork and Limited Edition Lithographs). All art pieces are professionally framed and matted behind glass. Other Items (Fenton Birds and Other Fenton Glass, Hand Signed Pottery, Large Pig Statues (Marble, Cast Iron, Carved Wood), Carved Horn Birds, Vintage Barbary Coast SLOT Machine, Pfaltzgraff, Longaberger, Vintage Tupperware, and LOTS More.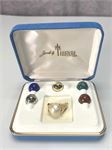 RARE Jewels by Trifari Interchangeable Ring and Necklaces, Other Nice Trifari, Monet and More Estate Jewelry, Several Lots of Original Artwork (Pastel and Watercolor), Precious Moments Collection, Geodes and Rocks, 1934-35 Currency, Vintage Fur Coats and Purse, Viking, Pyrex, Leaded Glass Window, Quality Decorative Candle Holders (unique), Handmade Woven Animal Baskets, NEW Household Items (Keurig, Nostalgia Mini Griddle, Cosco BoxGuard, Hart 20v Power Sprayer Kit, Mossy Oak Heated Magnum Tri-Stool, Ozark Trail Touring Kayak Paddle, Ninja Vintage Skateboards, and More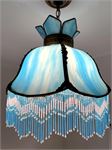 Introducing the estate of a professional Pianist, Teacher and lover of the Victorian era. Auction Includes: Dozens of Meyda Tiffany Table Lamp Shades (with nice lamp bases), Meyda Tiffany Ceiling Lights, Bohemia Glass Lusters, Crystal Cranberry Lusters, Lots of Brass Wall Sconces and Brass Decoratives, Carolina Mirror Company Mirrors (too many to count), Italian Open Barley Twist Plant Stands, Italian Brevettato Brass Marble Candelabra, Kimball Carved Wood Velvet Chairs, Ethan Allen Furniture, 19th Century Brass Cherub Wall Shelves, Cast Iron Garden Set, Japanese Four-Panel Watercolor, and Much, Much, More.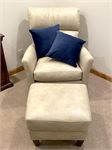 The items in this auction are from an immaculate home, which was very well kept over the years. Items are very good or like new in this auction. This auction includes: FURNITURE (Rattan Furniture Pieces, Bradington-Young Leather Chair and Ottoman, Linden Street Leather Chair and Ottoman, Decor Rest Leather Sectional Sofa, Curio Cabinets, Dining Tables, and More), ELECTRONICS (Klipsch Subwoofer and Speakers, Denon AV Receiver, Sony 4K Blu-ray Players, Amazon Echo, Apple HomePad Smart Speaker), OTHER ITEMS (Wallace 65-Piece Sterling Silver Flatware Set, Lee Peck Brass Art, Lots of Useful Household Items, Glassware, Lots of Decoratives, Cutco, Modern Table and Floor Lamps, and SO Much More :)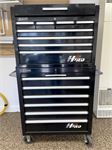 PART 1 - Work Shop and Garage - High End Power and Hand Tools, Plus Great Electronics PART 2 - Fine Home Furnishings - Leather Couch, Beautiful Furniture, Sterling Silver, Housewares, Decoratives, Artwork and More PART 1 SUMMARY: Homak 36" Rolling Tool Cabinet, Weber Summit Grill, NexGrill Outdoor Heater, Patio Furniture, Deck Boxes, Power Tools (Lots of DEWALT, Milkwaukee Tools - 18v Drills, Saws, Routers, Sanders, Scroll Saw, JET Dust Collector), 10" DELTA Unisaw Table, Router Table, Lots of Harware, Husqvarna Leaf Blower and Chainsaw, Utility Carts, CST-Berger Laser System, Electronics (Yamaha Surround Sound, Google NEST Cams, ROKU, Apple TV, Beats by Dre) and much more in this great, high quality auction.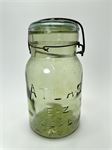 This auction contains over 200 bottles from a collector. There will be a Part 2 to this auction as well. Most of the bottles are from the late 1890s and early 1900s, in fantastic condition. Advertising, Embossed, Amber, Cobalt, Medical, Dentistry, Atlas, Mason, and much more! An auction every bottle collector must see.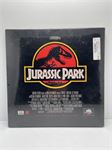 Lots of great artists and titles from a vinyl collector. Most of the vinyl listed is in Very Good or Near Mint condition. Some artists include: May be a one-of-a-kind Signed Rod Stewart record, Bob Dylan, Bruce Springsteen, Canned Heat, George Benson, ABBA, Grateful Dead, Joan Baez, Johnny Cash, Madonna, Michael Stanley Band, Peter Frampton, LOTS of Sealed Laser Discs, The Beatles, The Beach Boys, The Guess Who, The Ray Charles Singers, The Rolling Stones and More!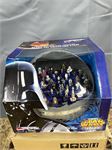 This auction includes: Rattan Sofa and Chairs, Pearl Grandfather Clock, Marto Excalibur and Lancelot Swords, Star Wars Episode 3 Bottle Cap Collection Stage, Sterling Silver, Sealed 1990 Topps Baseball Coin Sets, Uranium Glass, Hand Blown Glass, Vintage Mini Pitchers, LOTS of Models - Cars and Planes (several sealed), Xbox One Games and PS5 Games (NEW), Slumberjack Air Mattresses (NEW), Barnett Archery Sets (NEW), New Kids Bicycle Helmets, and More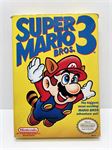 NES Console, NES Complete in Box Games, Nintendo 64, Nintendo Wii, Atari Games, 68-piece Sterling Silver Flatware Set, TYCO Train Set, Taylor Made Golf Clubs, Pottery, Art Glass, Antiques, Household Items and More.